• ROCHESTER • SYRACUSE • BUFFALO • ALBANY • UTICA
• CORNING • ELMIRA • BINGHAMTON • WATERTOWN
4 Potomac Street
Rochester, NY 14611
TEL: 585-241-6000

Call the Epoxy Floor Experts, Call MARTENS: 585-241-6000

MARTENS
Specialty Flooring, Inc.
Hi John, A great big thank you to you and everyone else at Martens that was involved in my garage epoxy floor project. I am so pleased with the amazing finished product. Besides looking great, it has saved me a lot of work by my not having to sweep my garage floor on a weekly basis of crumbling cement and dust. Deciding to go ahead with this project is one of the best investments and improvements I have made to my home. Martens is a great company to deal with. You were recommended to me, and I would have no hesitation recommending you to others.

Regards, Angie M., Rochester, nY

John, The garage floor looks great – thank you! A special shout out and thanks to Mike and Corey. They did a great job; they kept us informed throughout and they were exceedingly polite and pleasant at all times. They are wonderful ambassadors for you compnay.

Neil M., Rochester, NY
John..I just wanted to touch base with you and thank you and your crew for the garage floor you put in five years ago. I sent you before and after pictures. You can see after a simple and fast water and bristle brush cleaning process the floor looks brand new even after five years.

Thanks again. Mike Bartholomay, Henrietta, NY
Call the Industrial Floor Experts,
Call MARTENS: 585-241-6000


For Best Results, We Use Quality
Dur-A-Flex & Ardex Products.

Angie is Pleased With the Amazing Finish of Her MARTENS Epoxy Floor
What Our Satisfied Customers Say About MARTENS Epoxy Floors
"Our MARTENS Epoxy Floor Still Looks Great After 5 Years!"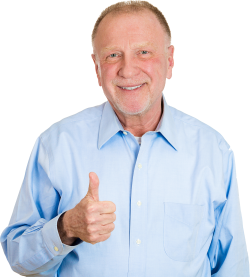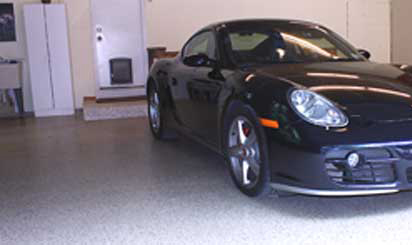 SERVING: ROCHESTER • SYRACUSE • BUFFALO • ALBANY • UTICA
• CORNING • ELMIRA • BINGHAMTON • WATERTOWN

MARTENS can embed your company logo, team logo or any graphic on your shop, garage or lobby floors...more>.
© 2018 MARTENS CORP, Rochester, NY USA


Hi John, Greg and I are thrilled with our new garage floor. I just wanted to take a minute to thank you and your crew for a most professional job, and outstanding customer service. Jason kept us well informed of the status throughout the process, and he graciously answered all my questions along the way. We already have neighbors asking us who did the work – and we've highly recommended you guys.

Thanks again John,. Best, Andrea Andrea E. T., Rochester, NY
Neil Says His MARTENS Epoxy Floor Looks Great!
"A Most Professional Job and Outstanding Customer Service."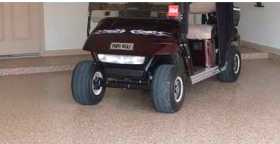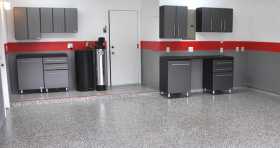 There is nothing like a Martens epoxy floor for your garage make over.
Great epoxy floor for your classic car or motorcycle.
Great epoxy floor for your golf cart, a floor that always looks new and is easy to clean.